Evelina – Excited And Frightened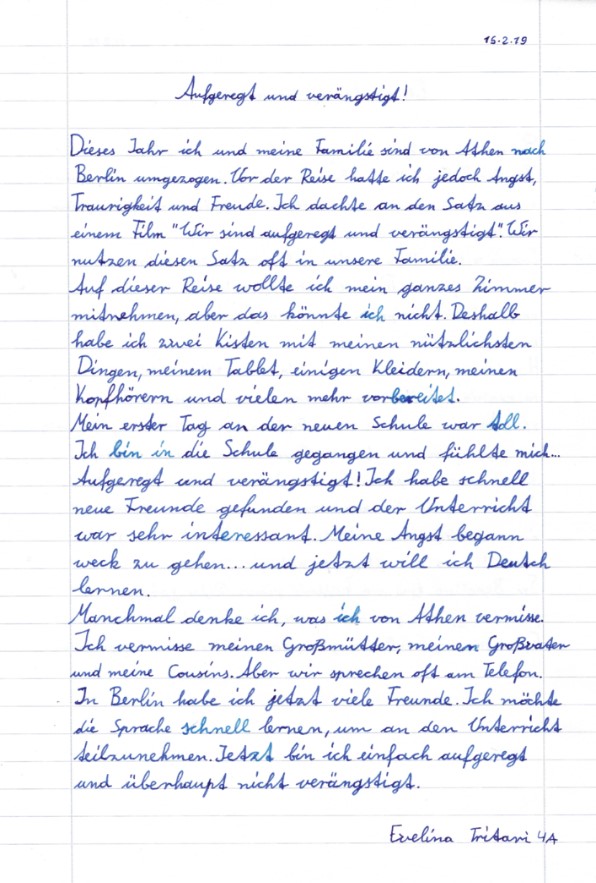 This year, my family and I moved from Athens to Berlin. Before we left however, I was frightened, sad and happy. I had to think of a sentence from a movie "we are so excited and frightened". We often used this sentence in our family.
For this journey I wanted to take everything from my bedroom, but that was impossible. Therefore, I took two boxes with my most useful things, my tablet, some clothing, my headphones and many other items.
The first day at my new school was awesome.
I went to school and felt … excited and frightened! I made new friends quickly and the lessons were very interesting. My fear started to disappear … and now I want to learn German.
Sometimes I think about the things I miss about Athens. I miss my grandmothers, my grandfather and my cousins. But we often talk on the phone. I have many friends in Berlin now. I want to learn the language quickly to be able to participate in the lessons. By now I am only excited and not frightened anymore at all.