Giacomo, my name
Hi everybody, here's Giacomo, that's my name. I would rather have been called Alessio, Alessandro, so... Why this name? Well… My cousin used to have a friend called Giacomo who was really nice, so he proposed this name for me and my parents accepted it. Giacomo means 'God's follower' or 'God protects you' (or, like Jacob, 'God's footprint'). Somewhere I've read that the lucky number associated with this name it's five. My name day is the 25th of July and the precious stone is ruby.
My family name is Pigorini and I don't know much about it...I only know that there was a famous archaeologist who was born in Parma but was known all over the world for his findings and there's a museum and a road dedicated to him in the city centre. When I think of my surname - I don't know why - it comes to my mind that 'Pigorini' could be an old dairy which produced mostly pecorino cheese, because of the similarity between the words 'Pigorini' and 'Pecorini'... When I look for 'Pigorini' on the web, I find some news about people with this surname who have emigrated in America or in the U.K.
I have a brother called Federico, my mother's name is Lisa and my father's Matteo. The parents of my mother's names are Leonello and Stefania, I also have a great -grandmother called Severina. My father's parents are called Maria and Antenore. I have many cousins: Francesca, Davide, Martina.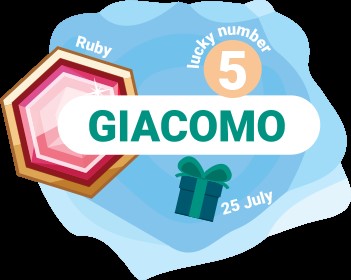 I have a very nice uncle who allows us, the children, to do many things and he has a dog named Milo, which obeys everyone's commands.
There are two songs I would relate to my life and they are 'Counting stars' by 'One Republic' or 'A sky full of stars' by 'Coldplay'. I've chosen these songs because sometimes they are fast and full of rhythm and sometimes slow and full of suspense… Giacomo